Post by worldantiques on May 13, 2012 21:41:50 GMT -5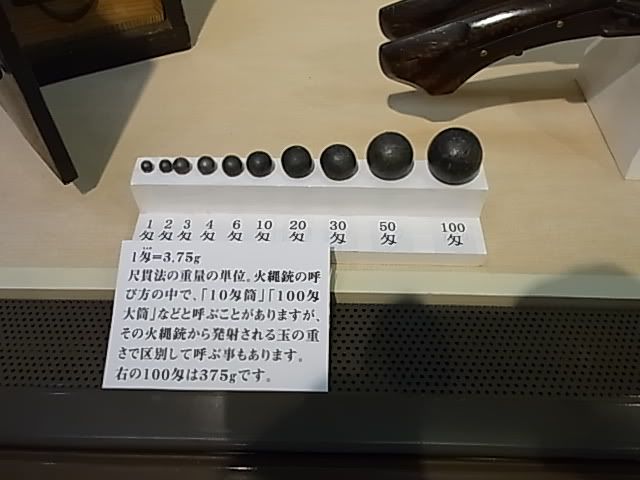 The sign says roughly:
One Monme = 3.75 gm. A Monme is a unit under the old Shakkan-Ho weights system. You will hear talk about 10-Monme zutsu (guns) or 100-Monme zutsu (guns), but this comes from the distinction in the weight of the ball fired from the Hinawa-Ju matchlock. The 100 Monme ball on the right thus weighs 375 gm.
A chart that shows a conversion between monme and millimeter.
A chart that shows a conversion between caliber, millimeters, grams and monme.
A quote from an authority on firearms in general.
(Quote: As far as classifying calibers as they pertain to the Tanegashima, .... .32 inch thru .39 inch by Tanegashima fanciers would be classed as 1 monme. It would be unheard of to say my gun is 1.21 monme for example. The Japanese with their measurement in monme tend to round off the fractions to the nearest whole number. It is unique in the firearms world for this inaccuracy in calibrating guns, ... but never-the-less since there were NO TRUE caliberation in the manufacturing process, ... the Japanese took certain liberties with their measurements of ball diameter terminolgy:End quote).
From an authority on the subject who participates in shooting Japanese matchlocks (tanegashima in Japan).
(Quote:Off-hand the smallest is 1 Monme, and the largest 100 Monme.
1 Monme were mainly used for target shooting.
As a general rule of thumb, pistols were 3 or 4 Monme.
Hunting guns tended to fall into the 4-5 range, I believe.
Good battle guns were at about 6 or 7 Monme and the 10 Ju-Monme zutsu was the first of the hefty guns, requiring a markedly bigger charge and bigger Hayago.
I have a 20 Monme O-zutsu which I fire towards the end of the display as we start to increase the bang.
30 Monme are large and heavy and proved to be about the maximum that could realistically be fired standing up in battle. After a second or two your left arm starts to spasm.
Anything above that, ie, 50, 70, 80 Monme required special supports & strapping to fire successfully. We sometimes fire 50 Monme or 80 Monme hand cannons, but you really need to kneel on one knee and support your left arm on the other to be safe.
At the other extreme, a 100 Monme ball would go into a very large hand cannon, often substituted by a Bo-hi-ya or flaming iron-tipped projectile for piercing a castle roof. Our Taicho usually fires a 100 Monme as the finale at displays
From what I understand, 250 years of peace and harmony in Edo Japan meant that more and more far-fetched objects were attempted, created and presented to titillate the interest of the bored ruling classes. Hand cannons grew ever larger and even a 1,000 Monme was produced and fired.
Real cannons, or mortars on blocks or carriages became strangely deformed as gunsmiths competed to fashion extremes which could fire over set distances within certain parameters. (Shades of Crufts dogs?)
The very shortest barrel I ever saw meant that the 100 Monme ball balanced on the inside front edge of the muzzle, half in and half out, but was still able to be fired as a regular cannon. The inside muzzle diameter usually 4 cm (1.57 inches). "meaning the 100 Monme":end quote).