Post by worldantiques on May 20, 2012 5:50:41 GMT -5
The Japanese undoubtedly made and used more types of armored clothing than any other country in the world. Any type of clothing could and was covered or lined with various armor defenses.
Kusari (chain armor), Karuta (small iron or leather rectangular or square armor plates) and kikko (small iron or leather hexagon armor plates) were used to turn ordinary clothing into an armored garment. These types of lightweight portable armor's could be easily concealed under a kimono, in addition the armor defense itself could be sewn between layers of cloth and concealed to the average observer.
Why would any samurai chose to fight without armor? While it is true that traditional armor was over time retired (Edo period) for use in emergencies, parades etc, other types of light weight portable folding "tatami'' armors and armored clothing became much more prominent in daily use. This type of "non traditional" armor was very easy to hide under clothing and the armor its self was often concealed inside clothing and was not even noticed by the casual observer, it was also worn out in the open. This type of armor came in many styles and shapes. Kikko, karuta and kusari armors were worn by high and low status samurai, remember that Japan was still a nation were every adult male samurai was armed while in public right up until the samurai class was dissolved in the 1870s.
If you look carefully at period prints you will often see armor being worn under the street clothing of samurai. As "administrators" samurai were in charge of internal security, with each of the hundreds of feudal lords (Daimyo) having to provide security for their individual domains. Not being able to handle whatever security problems may have come up would have had serious consequences including being removed and replaced. The Tokugawa government had their own security forces as well and all of these retainers were armed and wore armor of some type.
In "Secrets of the samurai: a survey of the martial arts of feudal Japan By Oscar Ratti, Adele Westbrook,
the continued use of armor in the 200+yr Edo period as being common and a necessity is discussed.
(Quote:"During the more than two hundred years of the Tokugawa period, however, the need for protecting the body in combat was never completely eliminated. The struggle for power which the great houses had undertaken on the battlefield gave way (under the enforced pacification of the Tokugawa) to all manner of civil strife, political intrigues, duels, (both individual and collective), assassinations, which in turn spawned a rich assortment of light armor such as the under garment of fine mail (kusari katabira) and other secret protective clothing worn under the ordinary clothing by the affiliated warrior, the samurai or the ronin. Armored sleeves derived from the traditional kote could be concealed under an overcoat, as could a light tight fitting corselet (do) to protect the back and neck, and an armored collar (nodo-wa) which covered the shoulders. Thus even in times of comparative peace, the use of armor continued to influence the various specializations of bujutsu and, in its new dimension gave a new impetus to the development of methods of close range combat such as kenjutsu and jujutsu, which had evolved from ancient methods of long range combat such as kyukutsu and yarijutsu, werein the full suit of armor or yoroi played such a significant role." End quote)
Late 1800s photograph of samurai wearing traditional armor and retainers wearing kusari katabira (chain armor jackets) and hachi-gane (forehead protectors).
In period prints, kusari (chain armor) was represented with cross hatching, you will also see cross hatching with visible armor plates attached. On close inspection of the neckline, wrists and ankles you can see armor showing on many prints.
Here is a samurai wearing kusari represented by cross hatching on the neck and arms.
Here is a samurai wearing kikko armor, which are small hexagon leather or iron plates.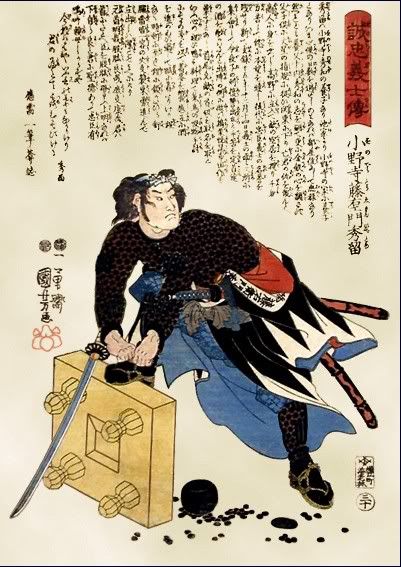 Here is a samurai wearing armor represented by cross hatching for the kusari with armor plates attached at the fore arms.