Post by worldantiques on Jul 7, 2012 8:55:05 GMT -5
The use of crossbows in Japan is documented but not much is actually known about how they looked and how they were used. At some point in time crossbows were completely eliminated from use in Japanese warfare. Here are two views of Japanese crossbows by Stephen Turnbull and Karl Friday
Recreated Mongolian siege crossbow.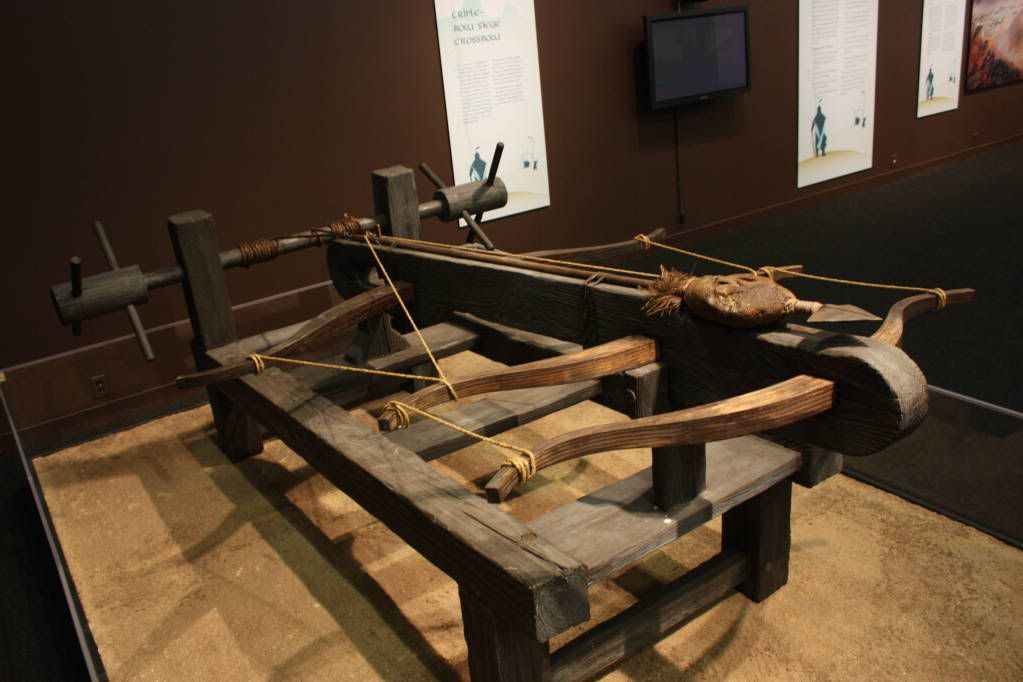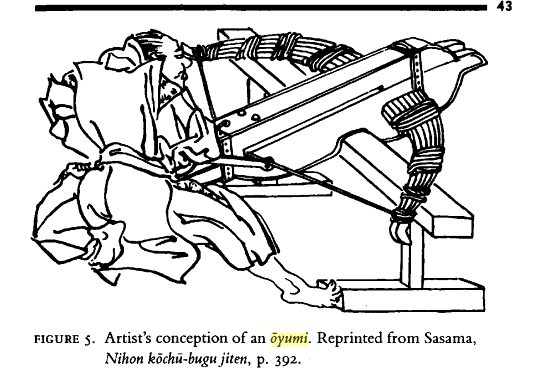 From:Siege Weapons of the Far East (1): Ad 612-1300
By Stephen R. Turnbull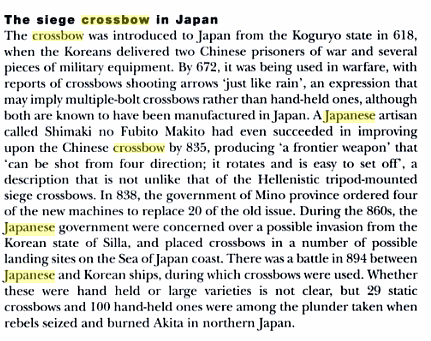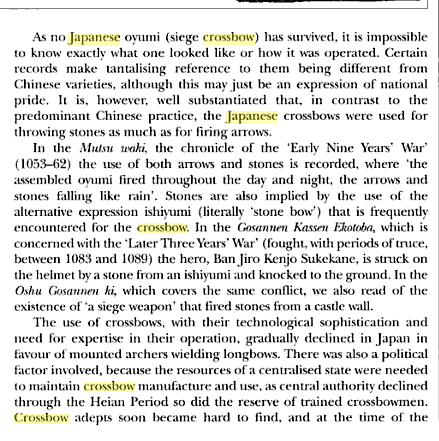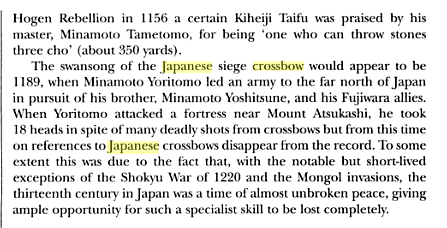 (Quote "Crossbows? Karl Friday - 2005
Turnbull is only partially correct in his descriptions of oyumi in Samurai Warfare, which quote passages in *Hired Swords* that quote (and translate) passages from the chronicles the Fukui museum refers to.
The simple fact of the matter is that there are no surviving contemporaneous drawings of oyumi, so we really can't know with certainty what this weapon was like. The picture Mr. Turner posted is a modern drawing, depicting a style of armor and helmet that weren't developed for at least a century after Ono Harukaze was around. The picture of oyumi in my Hired Swords book is from the Tokugawa period--again, long after oyumi had disappeared.
I've revisited the whole issue of what oyumi probably were in my new book (Samurai, Warfare and the State in Early Medieval Japan, which is currently in production with Routledge--and will hopefully be out by late fall or early spring). But here's the gist of what we know about crossbows in Japan:
The earliest written reference to crossbows records an unspecified number of 'oyumi' being presented to the court in 618 by envoys from the Korean kingdom of Koryo, but it was clearly in general service by the late 600s, and deployed under the ritsuryo (imperial state) military system by both the provincial regiments and the various guard units in the capital through the early tenth century. There is some evidence that it continued to be used at least occasionally as late as the twelfth century, perhaps even longer.
Again, the form of the oyumi is not actually known, as no contemporaneous drawings or detailed descriptions of the Japanese version survive, and no examples have been found in archeological sites. The same character (read nu in Mandarin) was used in China to name several types of crossbow, but the Japanese weapon does not seem to have been the same as any of these. It appears, in fact, to have been some sort of platform-mounted, crossbow-style catapult, on the order of the Greek oxybeles or lithobolos, the Roman ballista, and similar devices, perhaps capable of launching volleys of arrows or stones in a single shooting.
Redoubtable as it may have been, the weapon also appears to have been a very complex machine to operate. This seems, in fact, to have proved its undoing. Between 814 and 901, the court received requests for oyumi instructors from no less than seventeen provinces. All had the same complaint: regrettably, the weapons in their armories were going to waste, because no one knew how to use them. In his 914 memorial, Miyoshi Kiyoyuki went further, complaining of the incompetence of even the teachers.
The hand-held crossbow, a mainstay of Chinese armies from the fourth century BCE onward, was also known and used in Japan, but neither the ritsuryo armies nor the bushi appear to have developed much interest in it, preferring to rely instead on the long bow. The ritsuryo military statutes provided for only two soldiers from each fifty-man company to be trained as oyumi operators, and no later source indicates that this ratio was ever increased. Hand-held crossbows and crossbowmen are not mentioned in the statutes at all. It is, of course, possible that the term 'oyumi' in the ritsuryo codes and other sources referred to hand-crossbows, as well as ballista-like ones; but this is improbable, for several reasons.
First, while source references to crossbows of any form are scant, two documents do clearly distinguish oyumi from 'hand-crossbows' (shudo). The first, a report concerning a bandit raid on the Dewa provincial office in 878, discloses that among the items destroyed or stolen were 29 oyumi and 100 shudo. The second, an inventory from the Kozuke provincial office compiled around 1030, lists 25 shudo (apparently its entire stock) as missing. The specific identification of 'hand-crossbows' in these documents strongly suggests that the term 'oyumi' here and in earlier sources referred to something else. The reading 'oyumi' (great bow) itself is also evocative of a large, rather than a hand-held weapon.
Second, hand-crossbows require very little skill to operate--in fact this is their principal advantage over the long bow. And yet more than two-thirds of the extant sources that mention oyumi (indeed, virtually all such references from the ninth century) complain of the dearth of men capable of using the weapon or training others to use it.
Third, archeologists have, to date, unearthed only one trigger mechanism for a hand-crossbow, despite more than a century of efforts. That more have not been discovered, and that none had been discovered at all until the late 1990s, is strong testimony to the rarity of the weapon in Japan.
It would seem, therefore, that early medieval warriors lacked interest in using hand-crossbows, and that this indifference toward hand-held crossbows predated the bushi, having been shared by the ritsuryo military apparatus as well. This apathy is easy to fathom, when one considers the technological benefits and limitations of the weapon.
A crossbow is, fundamentally, a bow attached to a stock, so that it can be kept drawn and ready for shooting without continuing effort from the archer. This arrangement, coupled with a mechanical release, enables the use of a bow too strong for an archer to otherwise draw and hold. Crossbows also have an advantage in accuracy over regular bows, because a crossbowman can sight directly along the top of his arrows, using the fletchings like the sights of a modern firearm, and because the rigid stock holds the bowstring absolutely stable relative to the bow stave during aiming and release, eliminating the errors introduced by otherwise inevitable oscillation between the archer's hands. Crossbows enjoy the further advantage of being able to use shorter bolts, or quarrels, than are needed in the case of an ordinary bow, because the projectile rests on the stock and does not need to span the entire gap between the string and the bow stave. This not only makes crossbow bolts cheaper and easier to manufacture than regular arrows, it means that, in the words of a twelfth-century Chinese text, "if the crossbow bolts are picked up by the barbarians, they have no way of making use of them" at least insofar as the enemy is not also equipped with crossbows!
But crossbows also have serious limitations. Most designs are difficult or impossible to cock and reload while walking, running or riding on horseback. This makes them better-suited to defense, siegecraft and naval warfare than to offensive tactics on land. Crossbows are, moreover, much slower to reload and shoot than ordinary bows, resulting in a reduced volume of missiles that can be directed at a charging--or fleeing--enemy host, while it is within effective range. Nor does the greater power of crossbows always translate into range longer than that obtainable by ordinary bows, because while a regular bow can be angled upward, and shot to its maximum range with reasonable accuracy, a crossbow cannot be elevated very far without the stock obscuring the archer¡Çs aim. In practice, this renders the crossbow largely a line-of-sight weapon.
Advantageous use of crossbowmen therefore requires that they be carefully deployed and drilled. Maintaining the necessary degree of order would have been difficult for ritsuryo era Japanese armies, which were composed of militia units filled by conscripts who served only thirty or forty days a year on active duty. It would have been impossible for the privatized warriors of the Heian and Kamakura periods.
In addition, there Japanese would have encountered serious technological problems producing crossbows. The main difficulty would have been one of available materials: the same limited choices of construction materials that determined the development of the distinctive Japanese longbow would have complicated the design and manufacture of hand-crossbows as well.
The bow staves of Chinese crossbows were composites of wood, bone, sinew and glue, constructed in much the same manner as the ordinary Chinese bow. But the Japanese lacked supplies of animal products, and fashioned their bows from wood and bamboo instead, which required that the weapons be long. Manufacturing crossbows with composite bow staves of wood-and-bamboo comparable in length to those of regular bows would have resulted in a weapon too unwieldy to be practical: not merely extraordinarily wide--and not readily usable by troops standing in close ranks--but also extraordinarily long, as it would have been necessary to lengthen the stock, to permit a sufficient draw. Crossbows made with short wood, or wood-and-bamboo bow staves would have been considerably weaker, and more prone to breaking or delaminating, than the regular bows already in use.
The remaining alternative open to the Japanese would, of course, have been to import crossbows manufactured on the continent. Although there is no direct evidence to support such a conjecture, this may in fact have been what the Japanese did. Written and archeological sources can confirm the existence of only 125 hand-crossbows, in Dewa and Kozuke provinces. The only specimen uncovered to date, the trigger mechanism found in Miyagi, is made of bronze, and the Japanese are not believed to have ever produced bronze armaments on their own--all other bronze weapons discovered in Japan are thought to have been imports.
For more on this, you'll have to buy (or borrow) the book when it comes out (shameless plug . . . .).
__________________
Karl Friday
Dept. of History
University of Georgia
Athens, GA 30602 " End quote)
The only known image of an actual Japanese crossbow and bolt. This is a hand held crossbow most probably from the Edo period.